---
HOT! HOT!! HOT!!!
Extra Two-Week Lululemon Ticket Contest:
Win a Lululemon Gift Card*
This is a special 2-week contest to sell as many tickets as we can between now and the start of Show week
DON'T WAIT UNTIL THE LAST MOMENT – Let's sell every rink-side seat and pack this house!
---
---
*Winners can choose either a Lululemon gift card or an Amazon gift card
---
---
---
---
Ways to Promote:
Post on social media – use the image below to promote the show on all of your social media accounts.
Hand out a show flyer – download and print the PDF's provided below. Hand them out to everyone you know! (Please note that you will need to get permission from schools and businesses prior to posting any flyers).
Ticket Seller Contests Details:
The top seller ticket contest starts on the day the box office opens, February 15, 2023, and will end at 9 pm on April 20, 2022.
All skaters that are registered for the show are able to participate.
When you buy tickets, please enter the FIRST and LAST name of the skater who should get credit for the contest. This is how we keep track and award prizes. If you want to credit multiple skaters, please indicate the number of tickets per skater.
Top two ticket sellers will be announced at the Cast Party on Sunday, 4/23, after the Show ends.
Prizes
Two top ticket sellers will win a small, highlighted role in the 2024 show!
Posters signed by the guest skaters
2023 on-ice tickets
Apparel and more!
Hot One-Day Ticket Sales Contests:
The skater with the most tickets sold on our hot ticket day contests will win a special prize!
Keep an eye on your emails for our random one-day ticket contests!
Which Performance Should You Buy Tickets for?
If you have skaters participating in the Parent/Skater, Ice Theatre of the Rockies, and/or Denver Synchronicity performances, this is the schedule for when you can see them:
The online box office is now open and the skater ticket contest has begun! Start promoting the show to your family, friends, teachers, coaches, and more! We have some great prizes this year and make sure you keep an eye on those emails for our FLASH daily ticket contests!
Parent/Skater L-Z – Friday Evening 7 pm / Saturday Matinee 1:30 pm
Parent/Skater A-K – Saturday Evening 7 pm / Sunday Matinee 1:30 pm
Denver Synchronicity – Friday Evening 7 pm: Intermediate / Saturday Matinee 1:30 pm: Pre-Juvenile
Ice Theatre of The Rockies – Saturday Evening 7pm: / Open/High-Level Team / Sunday Matinee 1:30 pm: Preliminary Team
Printable Letter Size Flyer – Click HERE
Printable 11 x 17 Size Flyer – Click HERE
Social Media Promotional Image – Click HERE
---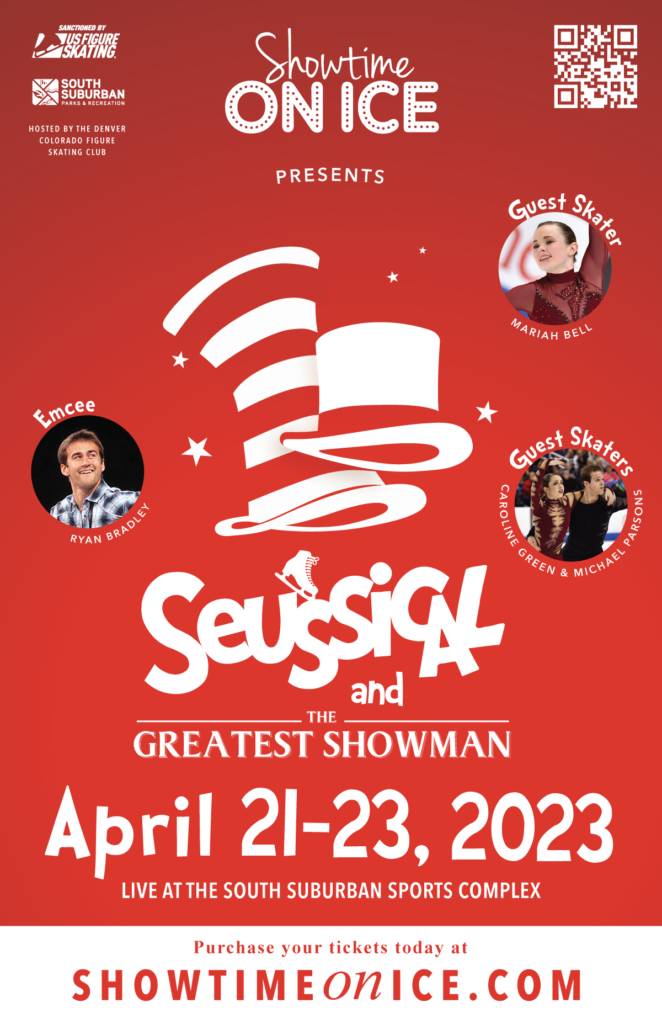 ---