Parent/Skater Dance Registration
This year we are opening up the traditional Father/Daughter Number to all parents. Parent/Skater Dance is available to one parent/guardian per family. If you have more than one skater in your family who are participating in the show together, for fairness and everyone's safety, they may only invite one of their parents/guardians to skate in this year's production.
Cost: $30.00 (includes show t-shirt fee; t-shirts will be worn by parents skating in this number)
What is it?
This is a time-honored tradition of the show and is a special musical number where we invite parents to take a spin around the ice with their skaters. This is a choreographed number to one song in the show, has a fee to cover rehearsals, and includes rental skates for those who need them. Parents are required to have basic skating skills and there is one mandatory rehearsal and one mandatory dress rehearsal.
What does it entail?
All parents/guardians and skaters will skate in TWO of the four shows. We will provide more information as to what shows after we have a complete list of everyone participating in the number. Graduating seniors and their parents are welcome to skate in all four shows.
This number lasts for one song in the show. This is a choreographed number and does require ONE mandatory rehearsal (usually the week before show week) and ONE mandatory dress rehearsal (usually Wednesday of show week).
We do ask that our parents/guardians have basic skating skills. Forward gliding/stroking, a basic turn and stopping are all you really need. If you need a refresher or have never been on skates, our amazing coaches are here to help! Just schedule a lesson at your convenience. South Suburban also offers adult learn to skate classes.
Parents are asked to wear black pants (or nice black jeans) and a white button down shirt for the number. This year a show T-shirt will be provided (fee included in registration for the number). Parents will be wearing the T-shirt over the white long sleeve shirt.
Parents/Guardians who are registered for this number are also asked to be present at Photo/Costume Day (February 12, 2023) for a group photo with their skaters for the official show program.
What do you get?
Memories that last a lifetime and the biggest smile on your child's face! Below is a photo of what you can expect.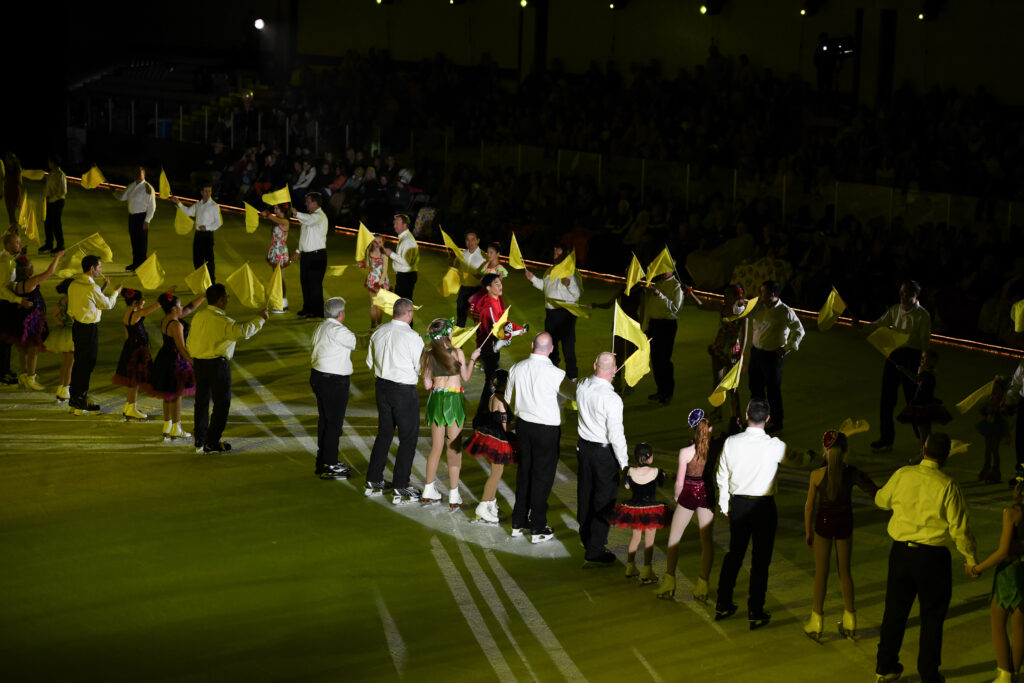 ---
Registration Form
Don't miss this awesome opportunity to include your parent in the show. Registration is below and closes on December 1, 2022.
---